Commercial Landscape
Management & Construction
Business & Industrial Landscape Management
In business, having the right image is an essential ingredient for success. A well-manicured image of your property can help to achieve the positive image you are seeking. Beyond creating a professional atmosphere, a comprehensive landscaping plan can help to save on property management costs.
Peak Landscape Management will work with you to preserve and enhance your property's value. Our team of professional landscapers will create a customized plan to enhance your business image, create well-maintained and safe grounds. Whether you are a corporate building or campus, a business park, medical facility or shopping center, our landscape services will enhance your property and provide a welcoming business environment.
Property Maintenance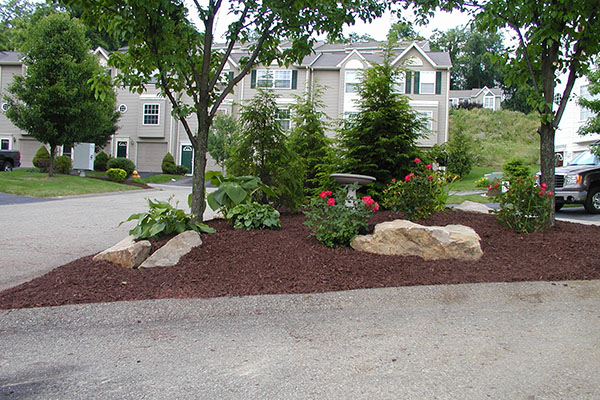 Peak Landscape Management is a trusted partner & will make handling your property management issues more manageable. We will monitor the long-term health of your landscape, focusing on cost-effective solutions to conserve, protect and enhance your property.
Our professional staff will provide on time and on budget services – including how many crew members and how many hours will be needed to groom and maintain your property. Expert planning to deliver a seasonal schedule of when to prep, plant, treat and maintain your grounds – ensuring that your property looks exceptional all year long.
Snow Removal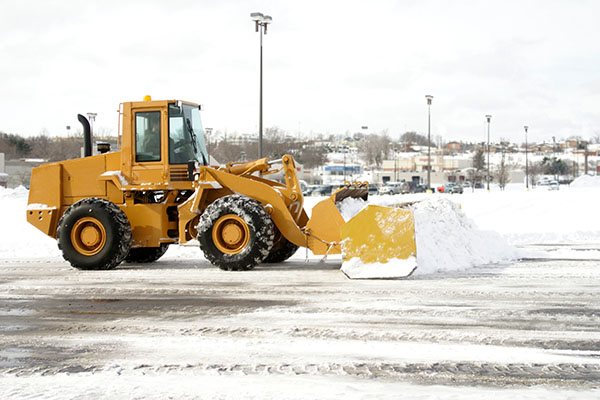 No matter what Mother Nature sends our way, your business can not afford to shut down because of ice and snow. Even before the winter months arrive, Peak Landscape Management will create a monitoring and snow removal plan that is tailored to your site. During the season we will provide prompt and professional service for snow and ice control. We provide prompt and professional services in the extended Pittsburgh market.
Pre-season planning
24/7 in season monitoring of winter weather
Curb-to-curb cleaning of your property
Water and Irrigation Management
A properly installed and maintained irrigation system plays an important role in preserving the health and beauty of your landscaped property. Water Management is much more than irrigation. It is also about conservation, going green and savings. Peak Landscape Management's professional team will access your landscape, the terrain and weather conditions to create a sustainable balance of correct plant selection, soil nutrition, drainage solutions and advance watering techniques.
From startup to maintenance and winterization, we make sure that your irrigation plan and system are operating properly.
Specialists in all aspects of irrigation systems from design and installation to maintenance
Irrigation systems audits that provide increased water delivery efficiencies
Conservation and measurable savings in water usage
Landscape Design & Construction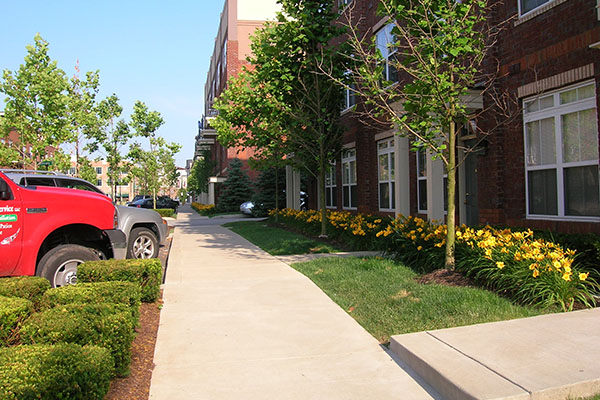 Peak Landscape Management's professional team of landscapers knows how to manage projects of every shape, size and budget. We will work with you to achieve your design goals and will oversee every phase of the project – from accurate estimated budgets to supply and material selection through construction and installation.
Our team will provide workflow efficiency through each phase of the project, making sure that details are right, before the design moves forward. We provide:
Designs created for long-term health and beauty for your property
Site upgrades and updates
Scheduled seasonal updates
Accurate estimates based on your site and resources
Coordinated installation
Safety improvements
Projects delivered on time
A workforce that is professional and committed to customer satisfaction